Thrombus Prevention Month<20th Jan – 19th Feb>
The 20th of January has been set as "Thrombus Prevention Day".
Take care of your blood vessel by Nattokinase and have healthy days!


Is modern people's blood vessel easy to get clogged?!


Due to the changes in dietary habits and lifestyle, there are more and more people with sticky blood, no matter what age, being off-balance of blood components and having high cholesterol and neutral fat levels. With such blood condition, thrombus can easily be produced and also fibrinolytic activity gets weaker and our body will have a difficulty to degrade thrombus. Cardiac infarct and brain infarct are caused by thrombus. In many cases they are developed suddenly without certain symptom and they get worse at high speed, and it can eventually become serious at times. Regarding these factors, the important thing is prevention. It is necessary to improve your lifestyle through your dietary habits and exercises so that thrombus will not be produced and your body can degrade thrombus even if thrombus is produced.


Nattokinase for thrombus prevention


Nattokinase has thrombus-degrading function and is contained in the sticky part of natto, a Japanese traditional food. Natto itself, however, has Vitamin K2 which is a component to promote blood coagulation. This means it is effective to take only the thrombolytic component to prevent thrombus and that is nattokinase. Through introducing nattokinase's effect on thrombolytic activity and to make use of that for health maintenance, the 20th of January has been set as "Thrombus Prevention Day". This date was chosen as "20" can be read tsumaru in Japanese, and it is a homonymy of the word meaning being clogged, and also the death rate of thrombosis is highest in January. Also according to the traditional East Asian calendar, it is said the coldest day of the year is around the 20th of January (this varies from year to year). Thrombus is more likely to happen in a cold season; thus we started this campaign of "Thrombus Prevention Month" from this day to wish for everyone's health.


"Prevention is important."
Press conference was held on Thrombus Prevention Day - Some Japanese celebrities were appointed enlightenment supporters


We held a press conference about Thrombus Prevention Month on the 20th Jan at Meguro Gajoen. We appointed 4 Japanese celebrities as the enlightenment supporters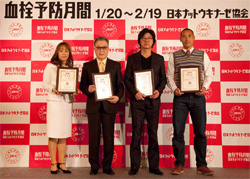 - Mr. Toru Emori, Mr. Hideki Saijo, Mr. Naoto Takahara and Ms. Hiroko Numao. They all have experienced thrombotic diseases before and from their experiences, they enthusiastically talked about how they spent the time fighting the diseases, how they overcame the diseases and about their families' support, and how they prevent the diseases now. They concluded, "Prevention is very important. Start with something you can do now and keep doing that without self-conceit to maintain your health."

From the left: Ms. Numao, Mr. Emori, Mr. Saijo and Mr. Takahara Akihiko Meguro, the president of Japan NattoKinase Association


professor Mitsuhiro Ota

We also had a lecture by professor Mitsuhiro Ota, the senior general manager and the vice president at Kobe Pharmaceutical University, specialized in pathological biochemistry on the day. He made a speech on nattokinase and thrombus for the mass media, starting with the explanation on thrombosis and how it is produced and its main syndrome. He especially talked about the certain symptoms of Transient Ischemic Attack (TIA) which has a high possibility for being the prodrome of brain infarct, and gave a warning about that thrombosis is a familiar disease with many would-be patients. Regarding all these things, he mentioned about the function of nattokinase as an excellent material to prevent thrombosis, and introduced his thrombolytic experiments of natto vs. nattokinase and mice experiment he is currently conducting. From the research presentation about the intake effect of nattokinase in vivo, he concluded that nattokinase is very beneficial for preventing thrombosis and arteriosclerotic disease and promoted the great functionality of nattokinase.